We would like to invite you to visit us at our booth B06, Hall 15 at EMO fair from September 18th to 23rd, 2023. At the trade fair booth, we will be introducing our new 5-axis TRIMILL VR 3022 machine for semi-finishing and finishing, with linear motors in all axes.
In the country known for its tulips, cheese and windmills – the Netherlands – we have a beautiful reference for the single-piece production of moulds, dies, pressing tools, high precision machine building parts thanks to Promatrix.
The 5-axis portal milling machine TRIMILL VFF 4021 and at this time also with a robot for automatic tool change system from Cellro Automation.
* Travels:
 x=4000 mm
 y=2100 mm
 z=1200 mm
* With the fork-type milling head T30C for simultaneous machining with electric spindle: 40kW, 248 Nm, 14.000 1/min, HSK A-100
* Zero clamping system for 40 clamps.
On 23-24.5.  takes place the Grand Opening of YCM Alliance new Technical Center in Sterling Heights, Michigan. The high-tech facility is the first in a series of centers designed to showcase machines and demonstrate the many complementary machining solutions available through the YCM Alliance.
We had a fantastic time hosting the High School of Industry in Zlín for a one-day excursion. Milan Julina, our CEO, provided a comprehensive introduction about TRIMILL and personally guided the boys throughout the day. František Polách and Tomáš Viceník had the opportunity to work independently in mechanical design department, using Inventor to redraw the tool holders of the automatic tool magazine, which they then assembled themselves. At the end of the day, they saw the result of their work, from the drawing to the partially finished product. It was heartening to see the boys' enthusiasm for engineering and how they enjoyed spending time with our colleagues. We thank the school for this opportunity and look forward to welcoming more curious students next month!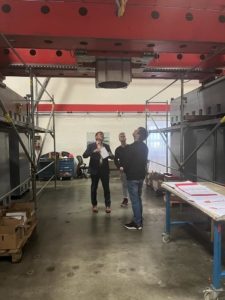 Handshake infront of 5-axis TRIMILL VR 3022 AM Tooling (AM Værktøj Odense A/S) in Denmark. Another successful project has been completed. Our portal milling machines are especially developed for accurate single piece production. This machine has linear motors in all axes for high dynamics of machining.
T15C fork-type milling head for simultaneous milling (B- and C-axis)
* Constant power 42 kW
* Constant torque 67 Nm
* Speed 24.000 rpm
* Tool holder HSK-A63
Colours also play an important role in our business and every customer has the opportunity to choose "his" colour. As in this case: The German customer chose not only the colour, but above all a very rigid and precise 5-axis TRIMILL VFC 3021 with 2-axis fork-type milling head T21C for continuos milling: 42 kW, 67 Nm, 24.000 1/min, HSK-A63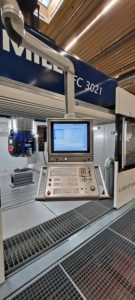 Finally, Covid allowed us to meet our customers and dealers, as the last time we met at TRIMILL was in 2019. We were excited to present our new products to everyone in attendance. And not just the general ones, but especially the technical ones. The main attraction was the TRIMILL VR 3022 5-axis machine for finishing machining in piece or small batch production. The main parameters are linear motors in all axes, the lack of a box-in-box system, a feed rate of 60,000 mm/min and acceleration up to 5m/s2.
Thanks everyone, it's been a ride!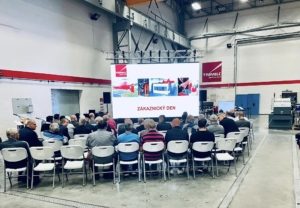 At the end of September, we participated together with TRIMILL VS 1614 in the very successful MAKTEK trade fair in Istanbul, Turkey. Together with our dealer SES 3000, we successfully closed several deals and presented the entire TRIMILL product range in the presence of our sales managers. Thank you to all visitors, the fair was a real success.
We would like to invite you to visit our booth #96 at the TOOLEX exhibition from 4-6.10.2022 at MCK Katowice. We are looking forward to meet you there.
Last week, the IMTS trade fair took place in Chicago, USA. We participated at the joint stand of the YCM Alliance. Our VFC 3021 5-axis portal milling machine was the center of attention and our dealers conducted a large number of business negotiations for the supply of TRIMILL machines to the USA, Canada and Mexico. Thanks to all our colleagues for a great job at the show.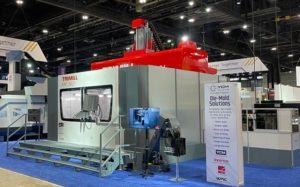 Dear Trimill Customer,
It is with great pleasure, that we announce to you today, that with immediate effect and after the successful completion of the acquisition, your long-standing supplier and machine manufacturer, TRIMILL, a.s., seated in Vsetín, Czech Republic, as well as the sales and service representative in Germany, TRIMILL GmbH, will become part of the YCM Group, together with other leading machine tool manufacturers.
TRIMILL, a.s. was founded in 2000 and with its highly stable and reliable CNC gantry milling centres has focused mainly on tool, mould and die manufacturers, where it has built up a consistently good reputation. TRIMILL products represent a differentiated, sometimes even unique approach to the design of high-quality gantry milling machines.
We know, that our success depends on your success, and we want to highlight, what TRIMILL can offer its customers in its expanded future environment:
– A wider range of high quality products and services from a single source.
– More stable supply chains with increased competitiveness.
– Significantly increased investment in product innovation, new business areas and a broader range of services.
If you have any further questions, please do not hesitate to contact us, or our sales staff TRIMILL .
We would like to remain your reliable partner for the supply of first-class machine tools in the new constellation and would like to take this opportunity to expressly thank you for your long-standing loyalty and support.
Sincerely,
TRIMILL, a.s. YCM Industries Co., Ltd.
Milan Julina, Chairman Richard Chen, Chairman
Patrick Chen, General Manager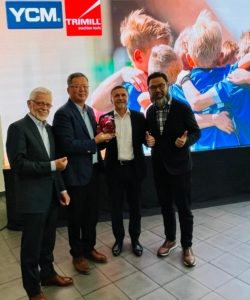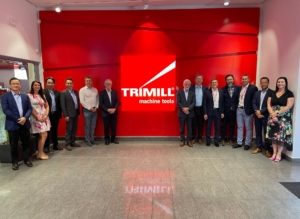 Last week, the ELMIA MACHINE TOOLS fair took place in Sweden, where we actively participated together with our dealer JOHAN NORDSTRÖM VERKTYGSMASKINER AB. The fair was very well attended and we are looking forward to selling machines there.
In the week from 05.04. to 08.04. 2022, the Internatioal Industry Fair took place in Celje, Slovenia. At the stand of our sales representative for the Slovenian market, KAČ TRADE, we presented all the new products to our customers. The fair was held after a forced two-year hiatus caused by the COVID pandemic.
We look forward to seeing you again next year.
.